Gallery exhibits, featuring the work of local and regional artists, rotate every few months.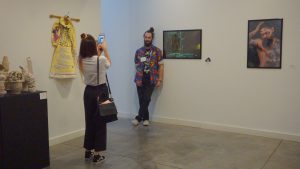 Gallery
September 14 – October 12, 2019
HONORING OUR ANCESTORS: A 500-YEAR JOURNEY BACK TO HERNÁN CORTÉS
Opening Reception: Saturday, September 14, 2019, 6 to 8 pm
In partnership with the Hispanic Organization for Genealogy and Research (HOGAR de Dallas), the Latino Cultural Center presents its annual Hispanic Heritage Month exhibition. Developed by HOGAR, this exhibit will pay tribute to Latino/a ancestors and will trace their roots in the New World from the founding of St. Augustine, Florida in 1565, the oldest continuously inhabited European settlement within the borders of the continental United States, to the 17th and 18th century missions and settlements in New Mexico, Texas and California. By exploring the past, this exhibition serves to highlight the rich contributions of Latino/as to the United States of America. Exhibition and opening reception are free and open to the public.
Click to Learn More