Gallery exhibits, featuring the work of local and regional artists, rotate every few months.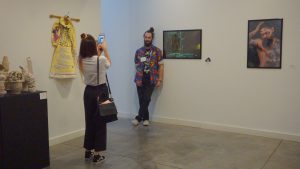 Gallery
HECHO EN DALLAS
Exhibition dates: November 16, 2018 – January 5, 2019
Opening Reception: November 16, 2018, 6 to 8 pm
The 15th Annual Hecho en Dallas is a juried exhibition designed to showcase the recent work of professional artists who reside and are active in the artistic environment of the Dallas area. This year's featured artists are: Anaah Abedi, Jesse Alarcon, Thomas Alonso, Ruda Anderson, Katie Bendalin, Jacqueline Blanco, Bernard Bortnick, Du Chau, Lizz Corea, Jenny DeLaughter, Julia deLeon, Oscar Duran, Rowen Foster, Katy Goodwin, Kate Gould, Kyle Hanson, Juan J. Hernandez, Antoaneta Hillman, Bill Holmberg, Paula Jaegerman, Josif Johnavich, Deepa Koshaley, Sudeep Kumar, Antonio Lechuga, Susan Lecky, Marian Maldonado-Pagán, Jas. Mardis, Ginny Marsh, Roberta Masciarelli, Jamila Mendez, Natalie Neiman, Elaine Pawlowicz, Paul Peña, Gabrielle Pruitt, Steven K. Quevedo, Marcela Reyes, Kathy Robinson-Hays, Una Scott, Jeanne Sturdevant, Amber Syed, and Madeleine Terry.
Exhibition and opening reception are free and open to the public.
Click to Learn More