Gallery exhibits, featuring the work of local and regional artists, rotate every few months.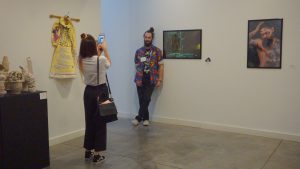 Gallery
July 26 – August 24, 2019
DIEZ LATINAS: A COMMON THREAD
Opening Reception:
Friday, July 26, 2019, 6 to 8 pm
The Latino Cultural Center will continue its focus on Latina visual artists working in Dallas and the greater North Texas region. Curated by renowned visual artist and curator Viola Delgado, this exhibition will feature the work of Adriana Acero, Ivonne Acero, Leticia Alaniz, Mayra Barraza, Sara Cardona, Adriana Cobo, Angela Faz, Maria Teresa Garcia-Pedroche, Leticia Huerta and Diana Marquis. Both the exhibition and opening reception are free and open to the public.
Click to Learn More