Gallery exhibits, featuring the work of local and regional artists, rotate every few months.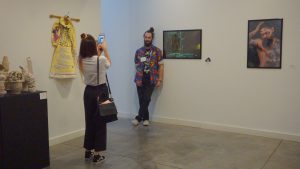 Gallery
June 7, 2019 – July 13, 2019
MaricónX
Opening Reception:
Friday, June 7, 2019, 6 to 8 pm
In partnership with the Latino Cultural Center, Arttitude presents its second annual LGBTQIA+ visual arts exhibition MaricónX featuring the works of Latinx artists Anel Flores, Camilo Garza, Hector Garza, Gabriel García Román, and Jose Villalobos. The featured works will cover current themes such as identity, culture, religion, media, politics, social climates and sexual and gender identity. MaricónX aims to reclaim the derogatory word to challenge misinformation and make the ignored and stereotyped visible in a display of art. Opening reception and exhibition are free and open to the public.
Click to Learn More