Summer Arts Camp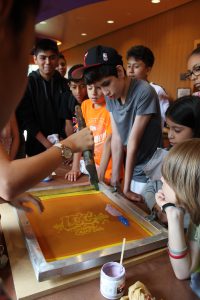 The Latino Cultural Center is excited to announce its 2018 LCC Summer Arts Camp! The camp will take a multidisciplinary approach to examining art and culture in Dallas. Students will have classes in theater, dance, visual art and music with a final performance at the end of the camp.
The LCC'S Summer Arts Camp will be held June 18 – July12 2018, Monday – Friday from 9 am – 5 pm with a final performance the evening of July 12th at the Latino Cultural Center (2600 Live Oak, Dallas, TX 75204). The Latino Cultural Center will be accepting a limited number of applicants for this free summer program. Admission is not guaranteed. Applicants will be selected through committee and will be informed of acceptance by Saturday, June 2, 2018.
This summer camp is for students who will be entering the 5th – 8th grades during the Fall of 2017.